WHAT COUNTS AND HOW DO I SUBMIT MY RESULTS?
The link to submit results will be made available as soon as the event starts. Once we get going on February 1st, you can submit results at any time. Follow the instructions on that page. You will be asked to enter details for each run. The system will then add together your run distance and time from each session and give you an overall distance. This will display on the results table and the live interactive map.
There is also a box to enter links through to strava or similar, and an option to upload a GPX file or other proof. This is not required, you can just upload your run manually if you prefer.
You can run anywhere, anytime. Outside on road, trail, on the treadmill, round your garden, anywhere you like. But please stick to government guidlines for your area.
This is an honour based system. If you have a GPX file, link to strava or other training platform then we will ask you to enter that alongside your manual time entry. To be eligible for awards (winners of each distance and each category) you need to upload files as proof of your run(s). However if you don't have access to a watch, phone or other recording device or prefer not to use them - no proof is required to be eligible as a finisher, just enter your times manually.
ARE THERE ANY RULES?
The primary objective of this event is to bring our amazing community together once again. As a result we won't be verifying and checking all results that come in, rather trusting everyone to input their overall time for completion honestly. if there are any obvious errors, we will get in touch to advise and help you correct them.
Beyond the guidelines below, please ensure you follow government guidelines regarding unnecessary travel, social distance and follow your countries guidelines should you develop Covid-19 symptoms.
In addition, due to our desire for this event to not place a burden on the health care system, please do not undertake a distance that is not reasonably within your current capabilities.
Those who are under 18 years of age must have yourparental consent to enter.
100 Miles: Under 18s only
200/400/600 Miles: Open to all Over 18s
HOW OFTEN DOES THE LEADERBOARD/ RESULTS TABLE UPDATE?
As a minimum, the results will refresh roughly every hour.
WHAT WILL THE RESULTS LOOK LIKE?
There will be a live results table as well as an interactive map showing how far you have travelled in your respective race, virtually, against our real courses.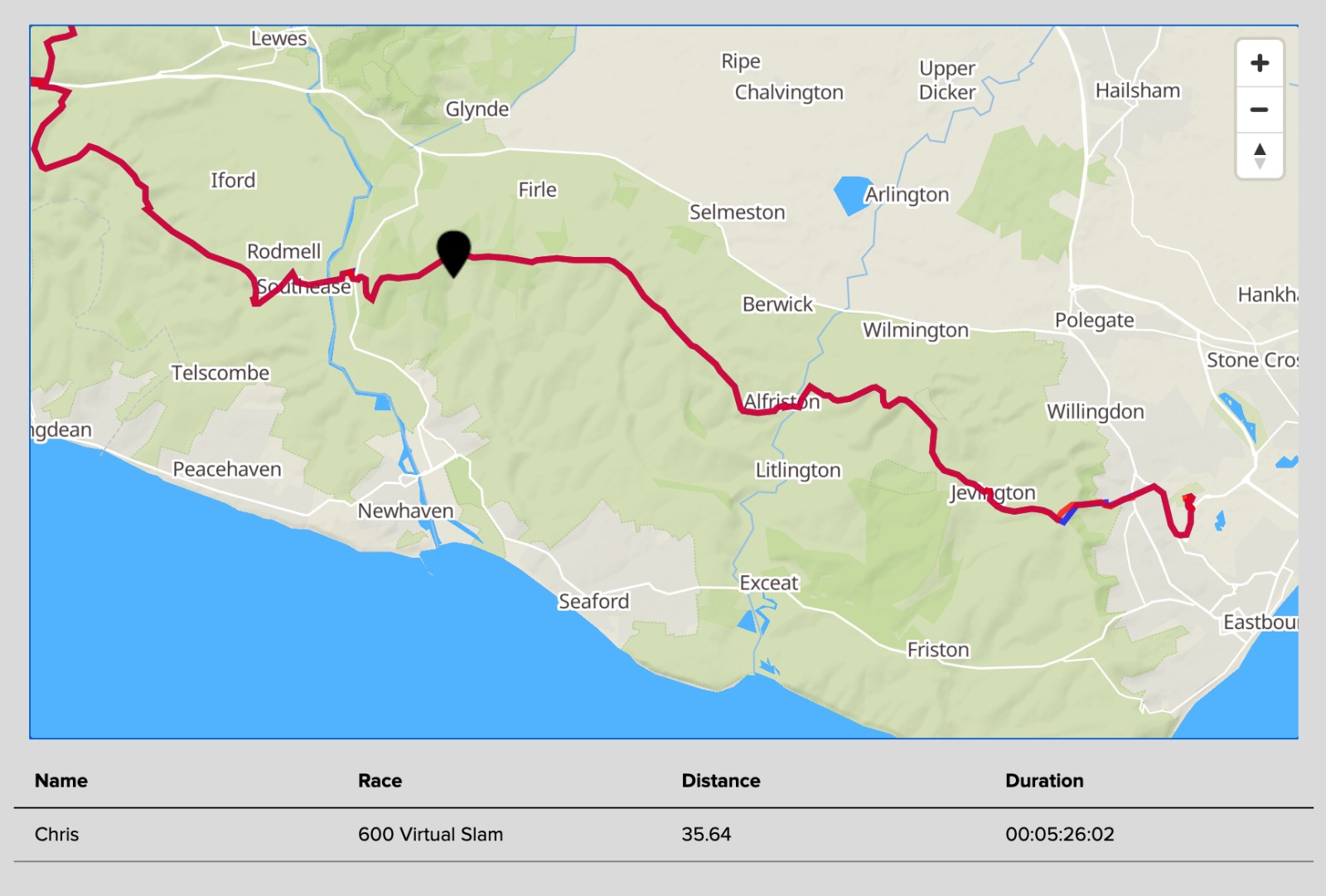 WHERE CAN I RUN? IS A TREADMILL OK?
You can run anywhere, anytime. Outside on road, trail, on the treadmill, round your garden, anywhere you like. But please as mentioned previously, stick to the government guidelines of your area.
CAN I SUBMIT MORE THAN ONCE?
Yes it will simply overwrite the initial result. Example: If you made a mistake you can simply go back and enter a new result.
You must submit all results by 2359 on 1st April 2021.
DO I HAVE TO RUN OR CAN I WALK?
You can run or walk, doesn't matter which. But as above please make your session a run or walk to actively achieve your target, don't add any daily step counts to your total.
Under 18s may sign up to the Bike/ Scooter category and can compete on those.
CAN MY ONE LOVE MILEAGE COUNT TOWARDS THE SLAM TOO?
Absolutely yes!
I DON'T HAVE A WATCH HOW DO I RECORD MY DISTANCE?
You don't have to use a watch or GPS device if you don't want to. This is a community event and is an honour based system so simply put in what you achieved to your best judgement. You can use google maps or a similar open mapping system to work out roughly how far you travelled.
DO I HAVE TO WEAR MY BIB NUMBER FOR EACH RUN?
You don't have to wear your bib each time you run, but it would be great for the community sharing if you did and even more so if you run past other people out running the event. The hashtag to use on social media is #centurioncommunity.
WHEN WILL MY AWARDS BE SENT OUT?
We will post your award out to you as soon as the event finishes. If you finish earlier than the 31st March you will still need to wait for your medal, as many people will subsequently decide to change up a distance! Please give us at least 2 weeks from the end of the event, to get your medal out to you, but of course we will go as fast we can. International orders might take longer.
WHEN IS THE LAST DAY TO ENTER?
You can enter any time up until the end of the 31st March. Runs you have already completed can count towards your event even though you were not entered.
CAN I ENTER MORE THAN ONE EVENT?
Yes, if you want to run more than one distance you can enter multiple distances via race director/ the enter button.
CAN I RUN WITH MY DOG/ IS THERE A CANICROSS CATEGORY?
Yes - Simply select 'yes' during registration to 'running with a dog?' and you will appear in your age group but also the canicross category. The dogs do not get posted out champions awards, but you can reward them with your love!
Please do not enter your dog in the race directly/ of it's own accord as it will appear against humans in the results. Which means a young child may miss out on a prize as it has been beaten by a dog / adult :)
I AM BASED OUTSIDE OF THE UK, CAN I STILL TAKE PART?
Yes! The event is open to everybody no matter your location. We hope to see many international runners taking part.
WHEN WILL MY BIB NUMBER BE AVAILABLE TO ME?
Bibs are not posted out, they are available to you once you enter. Within a short time of receiving your entry, you will appear on the entrants page here. Click on your race number to see your bib number and you can print it from there.
HELP, I CAN'T FIND THE ANSWER TO MY QUESTION!
Please drop us an email if you need anything at all by clicking here.